Dear old friends, dear friends of Montgontier,
At one time or another, you have been in touch with Montgontier and his world. Maybe you are wondering what becomes of this heritage?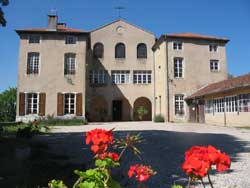 A small team of volunteers, former or friends of Montgontier, in a union founded in 1936 and renewed since that date, tries to make this property live. The times are hard and the means not necessarily adapted.
This team, recently gathered, wanted to first inform the elders and then appeal to their imagination and that of all the friends of Montgontier who would like to bring reflections, suggestions, contacts, etc.
It is not a call for financial or material support. At first, we must reflect on the future of this heritage and not be afraid to put forward multiple hypotheses.
That this good is sold, given, transformed, everything can be imagined. The worst would surely be that it deteriorates without finding real use.
Then the union members thought that many of Montgontier's old friends and friends would not remain insensitive to a call for reflection in a first step, each then judging whether he wants to invest more.
If you think to contribute or at least your reflection and to organize ourselves better, thank you to send us your reactions and your details using the form below.
Best regards,
Le Syndicat